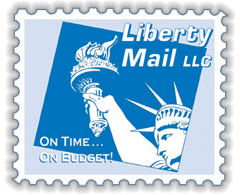 LIBERTY MAIL is a full service, direct marketing and mail fulfillment facility. We're dedicated to saving you time & money. Our experienced staff and technologically advanced equipment dramatically increase efficiency, reduce time, and lower postage costs.
Give us a call before your next mailing and experience on
budget, on time delivery.
Liberty Mail, 19 Lill Avenue, Newton, MA 02465 USA
617-928-0062
©2009. LIBERTY MAIL. ALL RIGHTS RESERVED.